GCT Celebrates another year of high marks in Green Marine
VANCOUVER, BC, CANADA – GCT Global Container Terminals has been proudly Green Marine certified since 2014. Green Marine is a voluntary certification program for the maritime industry, which challenges its members to go above and beyond what is required by regulations in regards to environmental, air, land, water, and community stewardship.
In 2019, GCT earned level 5 certification (excellence and leadership) in four out of five performance indicators, across all four GCT Terminals and is officially Green Marine Certified for another year.
Results: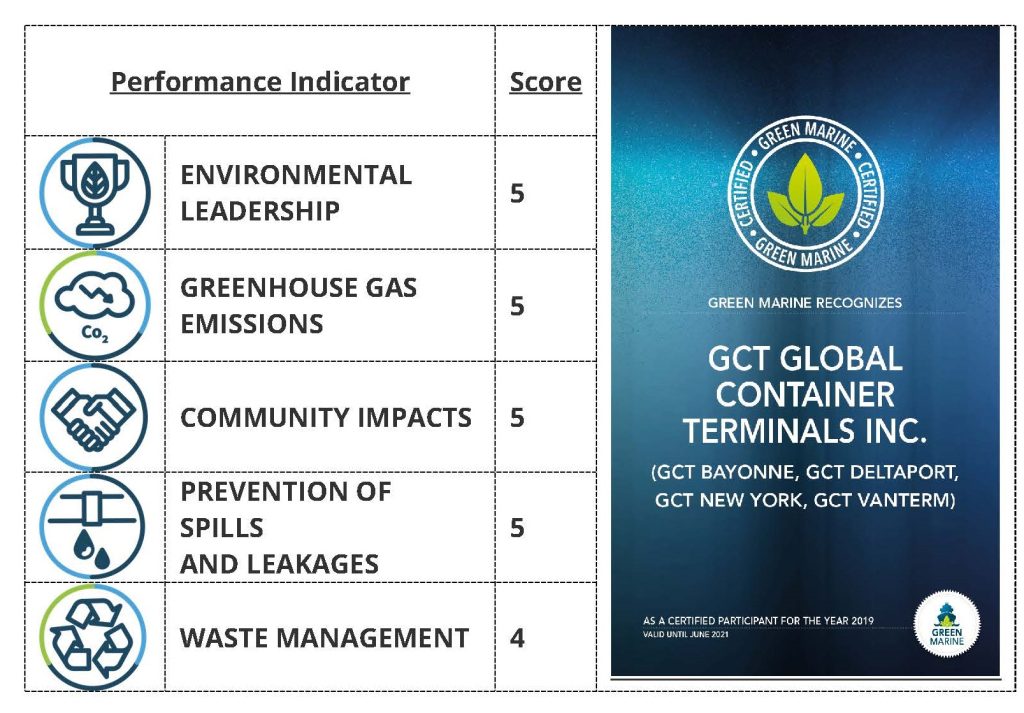 GCT's Global Commitment is our ongoing, public promise to continual improvement and going beyond regulation to reduce impacts on the environment and the community. Over the past ten years, GCT has been increasingly recognized for its efforts to decouple growth from emissions by investing in technology, densifying existing footprints, and improving energy efficiency.
We are proud of the 2019 Green Marine results for all of GCT's terminals. We thank Green Marine and our fellow industry participants for their commitment to reducing the environmental and community impacts of the maritime sector.
For more information on Green Marine and to see the full list of participants and results, please visit: https://green-marine.org/2020/06/16/green-marine-2019-performance-results-indicate-unwavering-commitment-to-a-broader-range-of-priorities/
Learn more about GCT's industry-leading Global Commitment: https://globalterminals.com/globalcommitment/
---
About GCT Global Container Terminals Inc.
Headquartered in Vancouver, BC, GCT Global Container Terminals Inc. operates four Green Marine certified terminals in two principal North American ports. For over a century, GCT has sustainably grown with innovative technology and our industry-leading Global Commitment to the environment and community.

Through GCT USA on the East Coast, the company operates two award-winning facilities: GCT New York on Staten Island, NY and GCT Bayonne in Bayonne, NJ. On the West Coast, GCT Canada operates two gateway terminals: GCT Vanterm and GCT Deltaport in Vancouver and Delta, BC.

Visit www.globalterminals.com or follow us @globalterminals to find out more about GCT.
---
For more information:
Jennifer Perih
GCT Global Container Terminals Inc.
T +1 604 267 5102
media@globalterminals.com